by PJ Grube | May 25th, 2013
A few hundred Santa Cruzens showed up at the Town Clock and marched against Monsanto and GMO's. Enthusiastic marchers, with home-made protest signs, began to rally at 10:am to 11:am and marched down Water Street, up Ocean Street, down Soquel Avenue to Front Street circling back to the Town Clock.
The protest coincided with a world-wide march against the gigantic agra-corporation.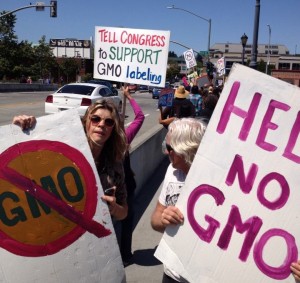 "There's a revolution happening right before our eyes, and before I had the opportunity to help with the world-wide March Against Monsanto, I was largely oblivious to this sea change that is coming. Said The Anti-Media.
One of the big concerns of these protesters is a piece of legislation nicknamed the 'Monsanto Protection Act' as a result of this legislation,  Monsanto and other companies can continue to sell GE (Genetically Engineered)  seeds even when they are declared illegal by the courts.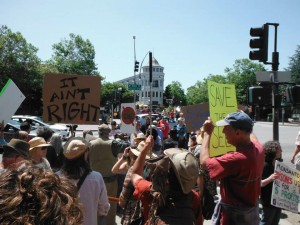 Currently 93% of all soy beans grown in the U.S. is GMO, as is 86% of all the corn and 93% of the canola. Monsanto produces seeds that are Roundup Ready, meaning the pesticide is in the seed. Monsanto has recently released a GMO corn that, when eaten by insects, makes their stomachs explode.
It seems that NOT a lot of people are informed about the dangers GMO's present to the food supply, but many Santa Cruzens who are spoke up today shouting, "NO!" to GMO's.
https://youtube.com/devicesupport
Inform to Change ™
If you're seeing this, we're doing our job.™
©  2013 Fresh Ground News™ All Rights Reserved.