by PJ Grube | June 5th, 2013
This Saturday and Sunday get FREE Basil by Donating to the On Higher Ground Project.
The Mission of On Higher Ground is to provide safe, secure, family-style housing for restoration, multilevel healing and active recovery. Available primarily for residents of Santa Cruz County, who demonstrate a willingness to change and seek a new manner of living through active recovery participation, structured lodging, life skills building, case management, counseling, training, job placement, referral and advocacy.
Our gardens are blasting through spring into summer and you need that zest that only basil can bring.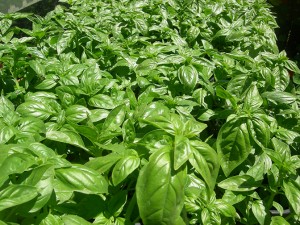 This Saturday and Sunday, June 8 & 9th at 127 Fern Street (on the road to Costco) you can get fresh Basil for your garden and kitchen by making a donation to the On Higher Ground Project through the Community Housing Land Trust of Santa Cruz County, Inc. a 501(c)(3) nonprofit charitable organization. Here is a Map.
Call us NOW for details: (831) 345-2303
Basil is so nice on a summers day zesty and spicy. Make Pesto Bounty with the heads of this deep green gift. Here is a Pesto recipe:
Pesto Bounty
* 2 packed cup fresh basil leaves washed and spun
* 1/4 cup freshly grated Romano cheese
* 1/2 cup olive oil
* 1/4 cup pine nuts
* 5 large garlic cloves cut in pieces
* 1/4 teaspoon coarse ground salt
* large pinch coarse ground black pepper
Layer half the oil, garlic and pine nuts; add basil leaves, cheese, salt, pepper, then remaining oil. Puree in blender until smooth. Makes over a cup aromatic Pesto Bounty from Green Garden Goodness.
Use the deep green heads of this zesty gift to make a Pesto Pizza, one of our favorite dishes.
Inform to Change ™
If you're seeing this, we're doing our job.™
©  2013 Fresh Ground News™ All Rights Reserved.