by PJ Grube | March 1st, 2014
Real Estate is sometimes a tricky business. Location, Location, Location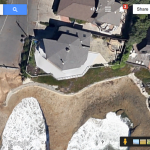 means more than a gorgeous view. Many unseen hazards can be hidden. This beautiful home along the East Cliffs of Santa Cruz discovered nature will take its course.
Over time the coast line can erode and even sea caves can form. In this case the sands of time have finally blown a hole in this property. We've all seen the ravages of mother nature when she's riled up but this is momma just doing her thing in the calmest of times.
Santa Cruz County is filled with wonders and hazards.
PJ Grube Realtor – PJGrube.com
Inform to Change ™
If you're seeing this, we're doing our job.™
©  2014 Fresh Ground News™ All Rights Reserved.