by PJ Grube | July 5th, 2010
Twenty brewers, including five local breweries, will tap the first annual Santa Cruz Hop N' Barley Festival at Sky Park, Scotts Valley on July 10th, to benefit the Community Housing Land Trust of Santa Cruz County, Inc., a local non-profit corporation.
Tasting will begin at Noon and flow till 4:30 to the local sounds of THRIVE!, Acoustic Shadow, Ancestree, and the URJ. Enjoy the event with a suggested donation of $20 available at HopNBarley.org
The Santa Cruz area host's five dedicated and successful local breweries and is home to many enthusiastic home brewers. The success of local brewing has mirrored the growth and focus on locally sustainable industries. The event director, Patrick Grube Jr., suggested, "Like good home cooking, these brews are more interesting and satisfying than the alternatives."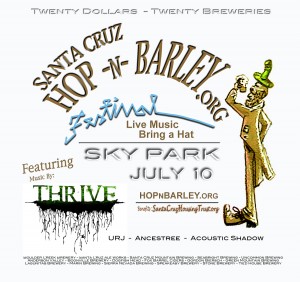 We are highlighting organic consciousness at the festival. Organic is natural to Santa Cruz and that includes the beer. There will also be oysters on the half shell, gyros and falafel's by "Heavenly Cafe" and brick fired pizza by "Redwood Pizzeria" and "Main Street Garden & Café".
Confirmed brewers are: Boulder Creek Brewery, Santa Cruz Ale Works, Santa Cruz Mountain Brewing, Seabright Brewing, Uncommon Brewers, Anderson Valley, Boonville Brewery, Dogfish Head, Fox Barrel Ciders, Gordon Biersch, Green Mountain Cidery, Lagunitas Brewery, Marin Brewing, Sierra Nevada Brewing, Speakeasy Brewery, Stone Brewery, Tied House Brewery and Faultline Brewing Company.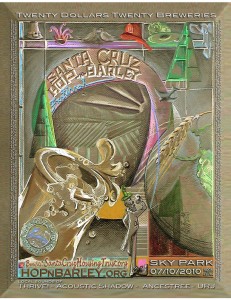 Sky Park boosts a very large kids area, a large skate park and also is very dog friendly.
The mission of the trust is to expand and maintain housing and employment opportunities in Santa Cruz County. Information can be found at SantaCruzHousingTrust.org
© 2010 Fresh Ground News™