by Sabastian | November 21st, 2010
Real Stand-Up Fluffy Waffles
Fluffy is airspace and in this case it is provided by whipped egg whites. If you make extra, the leftovers can be frozen for a taste treat another day. (see note)
•    1-¾ cups    all-purpose flour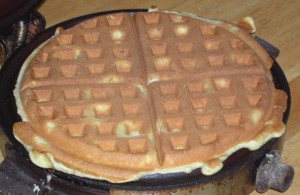 •    2 tbl    sugar
•    1 tbl    baking powder
•    ¼ tsp    salt
•    3    eggs
•    1-¾ cups    milk
•    ½ cup    cooking oil, olive oil or melted butter
•    1 tsp    vanilla
In a bowl stir together Dry ingredients. Separate yolks form whites. Whip egg whites to a peak. In another bowl stir together remaining wet ingredients.
Mix together wet and dry mixtures. Fold in Whites
Pour 1 cup batter onto grids of a preheated, lightly greased 7" waffle baker. Do not open until done (approx. 3 min.) Use a fork to lift waffle off grid. Repeat with remaining batter. Makes six waffles.
For Buttermilk Waffles: Reduce baking powder to 1 tsp and add 1/2 tsp baking soda. Substitute 2 cups buttermilk for the 1-¾ cups milk.
Note: Freeze the left-overs between wax paper sheets for toasty taste treats later.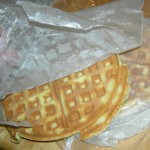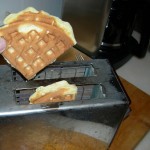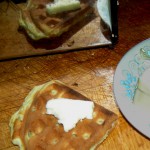 Inform to Change ™
If you're seeing this, we're doing our job.™
©  2010 Fresh Ground News™ All Rights Reserved.